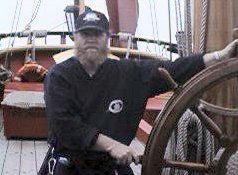 ENDEAVOUR VOYAGE
In September of 1998, I sailed as a member of the voyage crew aboard H.M.Bark Endeavour. This vessel, a replica Capt. James Cook's ship, is a working, sailing museum making a round-the-world tour. Experiencing 18th century Nautical life aboard such a vessel was quite a thrill!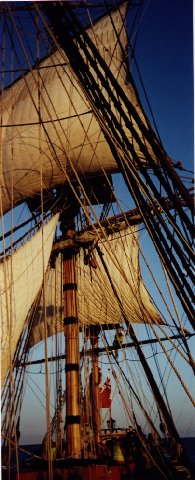 With wooden decks and masts, canvas sails and authentic rope rigging, ENDEAVOUR sails just like her 1768 counterpart. Designed as a collier, she is deep bottomed, broad and bluff in the bow. She rides as solidly as a ship her size could - 500 tons and just over 100' long. Cook valued her for her stability and ruggedness on his 3 year journey into the Pacific Ocean.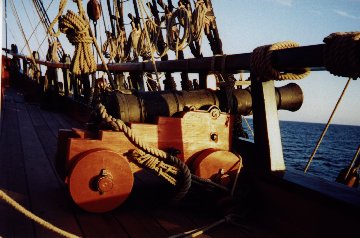 All original equipment on the ship has been duplicated in complete, working detail, including the cannons. Since cannons are my passion I was thrilled that we had four 4-pounders, made by the Australian military specifically for Endeavour.

Several times during the voyage we made use of those 4 pounders. Here the forward port cannon is shown firing a salute upon our arrival in Portsmouth, NH. There was a virtual battle raging as batteries from both the North (Maine) and South (NH) shores saluted us with vollies of fire during our journey upriver. We answered every round, and then some !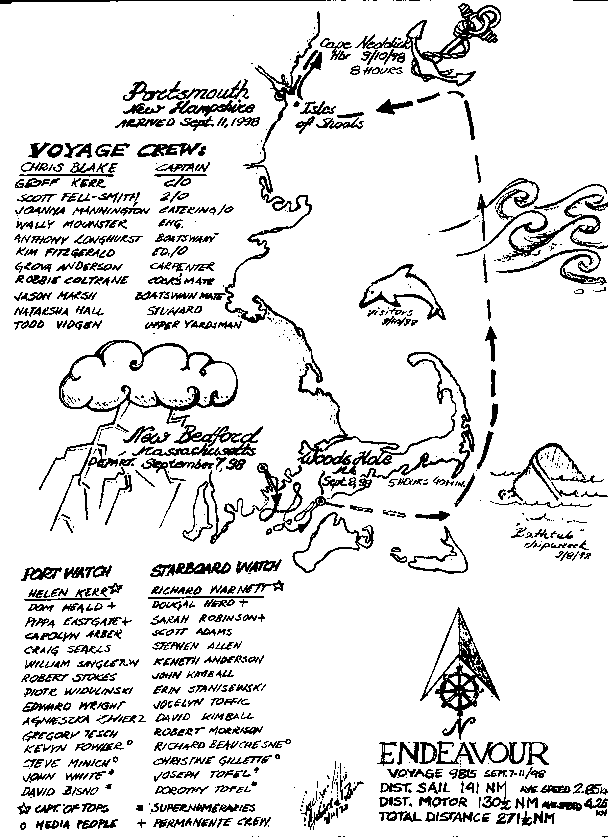 Here is a map of our voyage, prepared onboard by several artists who sailed with us. Captain Cook and Sir Joseph Banks also had artists onboard during the original voyage. They recorded the new flora and fauna that was discovered along the way. Over 20,000 new varieties of plants and animals were discovered on that trip.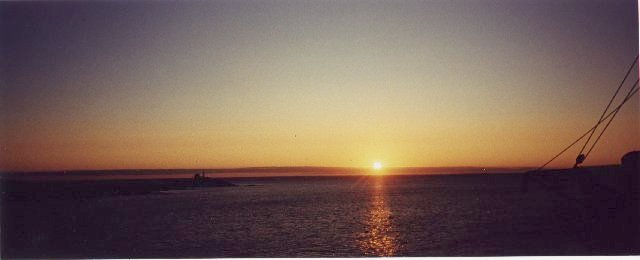 Our last night was spent anchored in York Harbor, Maine, just off Cape Neddick and Nubble Light. It was a pleasant way to wind down after a week of adventure. The air was fairly warm, the sky was clear, the water was calm. The lighthouse nearby gave us the security that earlier sailors must have felt when they returned to known surroundings. Here is a picture of the sunrise on Friday morning, with Nubble light on the left.


ENDEAVOUR'S OFFICIAL WEBSITE
This page, and all contents, are Copyright (C) 1998 by Kenn Anderson,Sr., Scranton, PA. (USA)